Countless products, resources and services are constantly being traded around the world - the procurement of the required produced goods plays a more important role than ever before.
A good procurement strategy - also known as a sourcing strategy - is an essential basis for the success of the procurement and supply management organization, and thus, of the entire company.
Why your sourcing strategy is so important
Digitization, permanent changes in the global procurement markets and the growing importance of sourcing always confront companies with extensive changes. A good negotiation strategy is important, but is no longer sufficient. A strategic procurement, which finds and further develops the most suitable suppliers, as well as the search for new digital solutions and for the respective suppliers are becoming a prerequisite for success. Good suppliers must become partners. Costs incurred must be justified by value generation.
Checking, adapting or even restructuring your own procurement management offers tremendous opportunities to gain competitive advantages.
Companies can only secure long-term success with a suitable procurement and sourcing strategy:
The strategy must be kept up to date, ie it must always be based on the situation of the company and the market and has to take changes into account in good time.

The strategy must be based on market data from the procurement analysis.

The strategy must be based on the company goals and the procurement goals. Otherwise goals such as savings or cost reductions as well as process goals (e.g. resilience or security of supply) and high quality can not be achieved in the mid- to long-run.
Emarticon has the experience and knows the concepts to work out the perfect purchasing lever for you and to implement the right procurement strategy. Successfully proven concepts, which are adapted to your situation, are being used in practice - two examples below.
Emarticon® Functional Strategy Concept
The corporate function procurement is an important success factor for a company today. An adequate functional strategy becomes the basis. Based on the goals of your company and the goals of the procurement function, we develop this functional strategy together with you.
Based on workshops, we coordinate with the stakeholders of your company, the appropriate orientation for your success is being defined. We don't just look at "What global procurement strategies are there?" Essential topics are also goals and methods of cost management, the efficiency and effectiveness of your procurement processes, the satisfaction of internal customers as well as adequate management of opportunities and risks. We draw on our knowledge from project work in various industries and combine this experience to your benefit.
We will then support you with the implementation of this strategy including the means of active change management.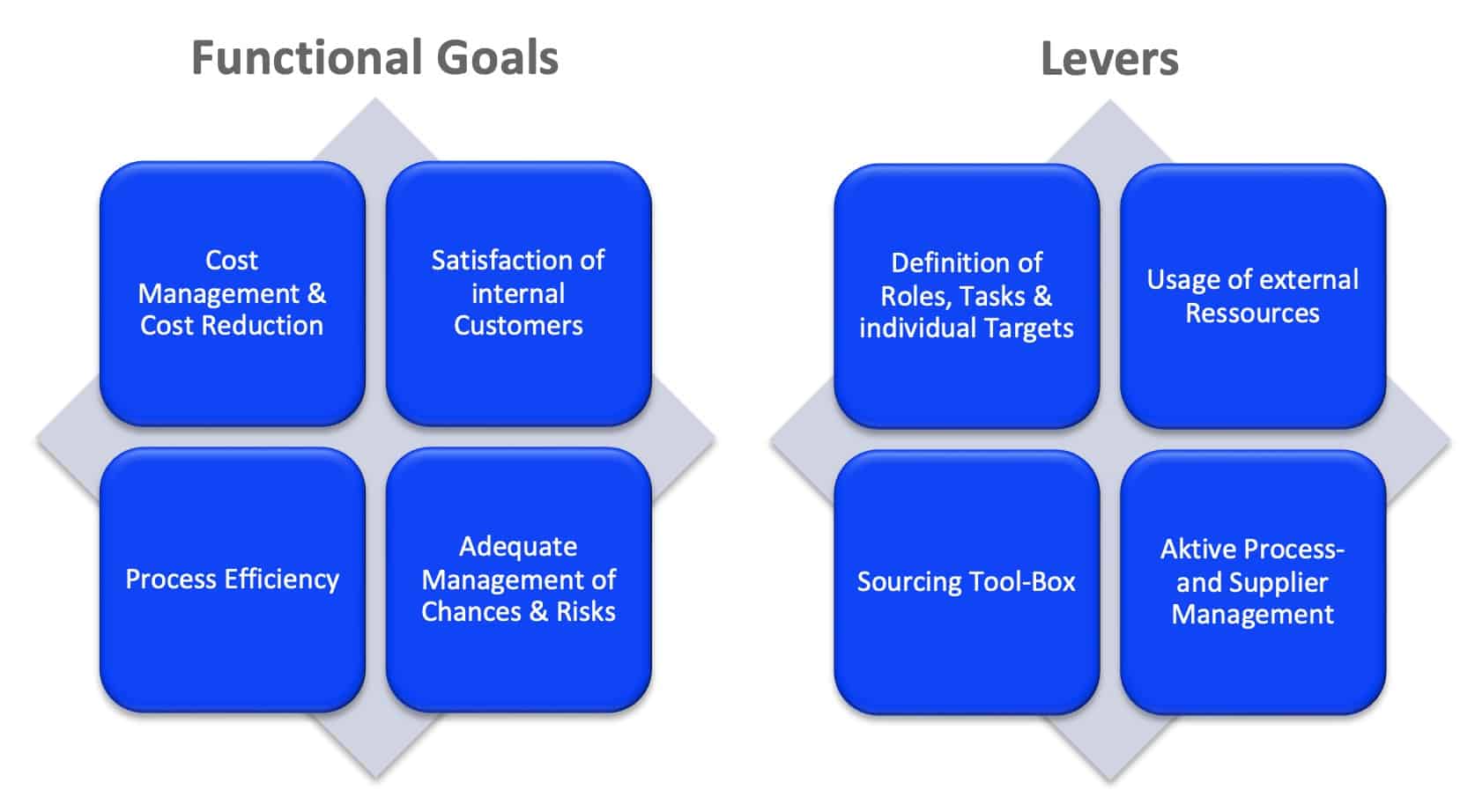 Emarticon helps customers to implement and establish the procurement function as a success factor for the entire company.
Contact Me
How good is your procurement strategy?
Contact Me. I would be happy to discuss your specific situation with me as part of a strategy meeting.
Contact Me
Emarticon® Strategic Cost Reduction
To obtain savings stand at Emarticon long-term, total cost of ownership and bottom-line EBIT effect in the foreground. The most sustainable cost reductions result from a good procurement strategy that weighs opportunities and risks and creates a healthy balance. We call that "Strategic Cost Reduction" and have developed our own tool for this purpose.
The approach is based on several elements that are individually combined for you. Target agreements and budget management are also included, such as benchmarking and market observation. Often follow Tenders . Often, however, the implementation via an optimized supplier management programs even more purposeful. In the case of complex tenders, Emarticon sees them as a project in which success depends on understanding your company's situation and balancing conflicting objectives.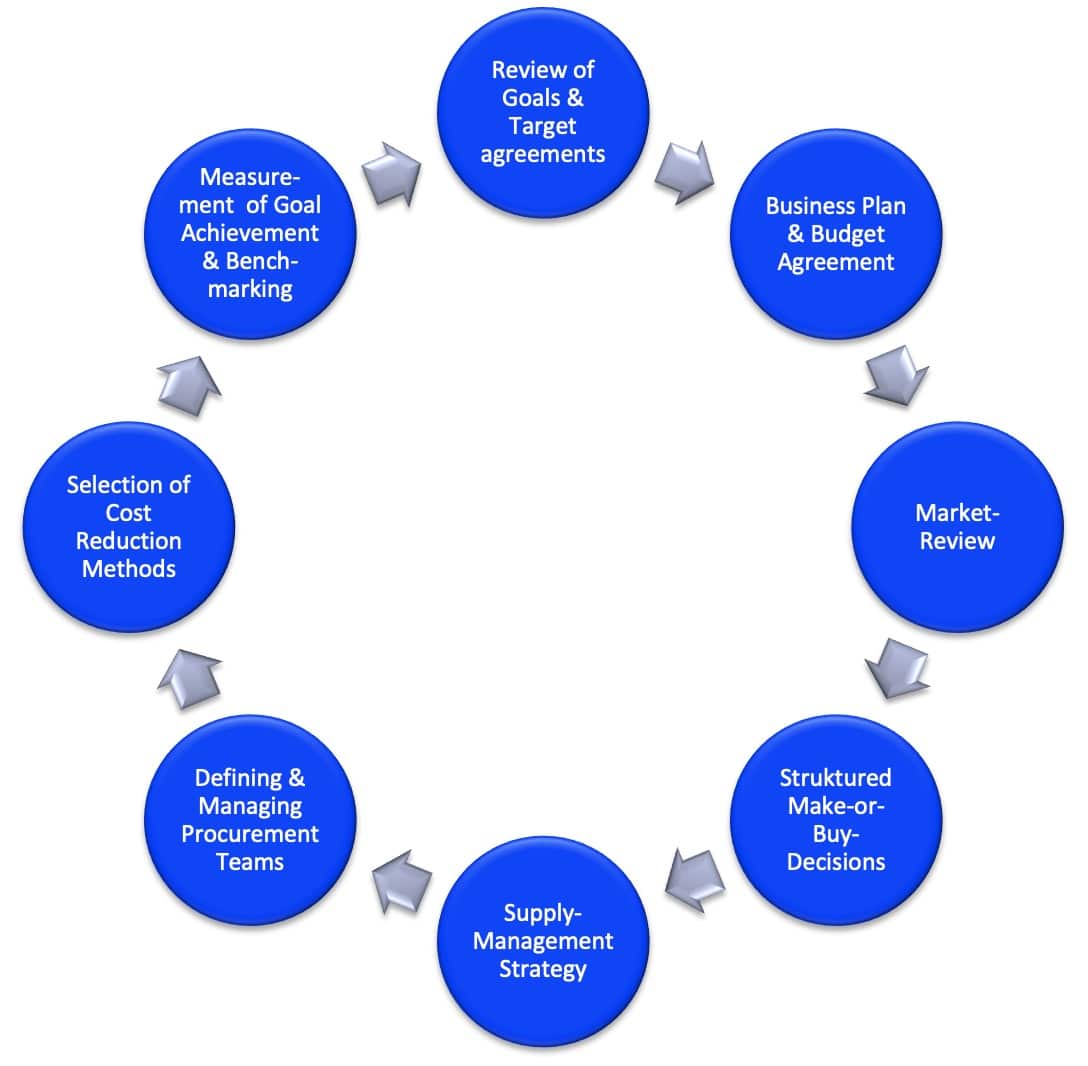 Emarticon helps customers individually to achieve significant and sustainable cost reductions.
Clemens Rinnebach & Network support companies to achieve a successful procurement strategy
When it comes to effectiveness and cost savings in procurement, Clemens Rinnebach, face of Emarticon, can introduce himself as an expert in this area:
He gained experience in developing and implementing strategies as a management consultant at BCG and Kearney.

As a Vice President (VP) Strategic Procurement at Siemens and CPO (Chief Procurement Officer) at Allgeier SE he was able to make a significant contribution to the success of these companies through suitable and state-of-the-art procurement methodologies.

As Head of Sourcing at Hypo Real Estate (HRE) and the reorganized successor company Deutsche Pfandbriefbank AG Clemens Rinnebach developed and implemented the new procurement strategy - and thus made a significant contribution to the turnaround of the system-relevant bank. With a balance sheet of EUR 430 billion at that time, this can be called the largest restructuring case in the history of the Federal Republic of Germany!
Emarticon can look back on numerous successful projects for the development of a suitable procurement strategy - and offers expertise in different industries, for example: